**MONEY TALKS ~ *RESULTS* ~ KY DERBY CONTEST 2017
~~~



This wouldn't be an easy one
When trying to decide
14 runners in the gate
And on the line their pride

The choice was pretty simple
Out of 20 just pick three
Who will bring the Money
So the Winner you will be

On paper it sounds easy
Before the race is run
Because anything can happen
Until the race is done

Last year something happened
That we've never seen before
One play just turned "Psychic"
A COLD TRIFECTA He did Score!

He picked the Winning Horses
In the Order they Came In
When ''Money Talks" It 'Shouted
That Extraordinary Win!


So out of 15 players last year
The Winner with most Money
Was The One With Psychic Secrets
And That Winner's Name Is BLUNNY!


~~~



So now we turn to This Year's Race
With 14 In the Gate
Who Brings Home The most Money
Or A Golden Goose Their Fate?
--
--

2 New runners in the gate
Premier Pegasus / Thunder Cat
Will either score enough to win
And wear A Victory Hat

The Post Parade Is Underway
Now Meet The Character Cast
Who will win the Trophy
And Who will finish Last?

The Superfecta Placement
El Prado -&- Tiger Dancer
Each Filly 'Always Dreaming'
But Just 1 Was Not The Answer

The 3rd Place Resulted In A Tie
2 Maidens Were 'Lookin At Lee'
Premier Pegasus -&- Thunder Cat
'Always Dreaming' They Didn't See

The Runner Up In Money
Who Chose 2 of the 3
Real Quiet Came O So Close
But Victory Gallop Not To Be





So Who Took Home The Trophy
Whose Fate Was Meant To be?
What's Even Kinda Quirky
'Always Dreaming' = Not In The 3

She Won All Of The Money
By Having The Place -&- Show
So Even Without Derby Winner
To The Bank Now She Will Go

She Dug Out Her Lemon Pledge
And Her Feather Duster Too
She Dusted Off The Rest
At The Wire She Came Thru!

In Case Ya Couldn't Tell
By The Subtle Little Clues
Dusty Wins It All......
While The Rest All Sang The Blues

But There Is An Honorable Mention
Tiger Dancer In Whose Mind
Was The Only One Who Knew
'Always Dreaming' = First In Line





The Final Order Of Finish
When All Was Said & Done
There Were 7 With No Money
Golden Goose Eggs They Had Won


DUSTY ============= $62.60 (*1--*11--15)

REAL QUIET ========== $45.20 -- (*11--17--*5)

THUNDER CAT ======== $41.80 -- (13--*1--9)

PREMIER PEGASUS ===== $41.80 -- (8--12--*1)

TIGER DANCER ======== $24.40 -- (*5--14--7)

EL PRADO =========== $24.40 -- (8--10--*5)

STARK ============= $20.80 -- (17--*11--2)




IN THE GOLDEN GOOSE EGG NEST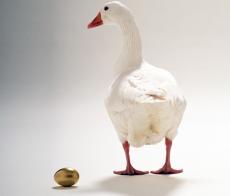 RUFFIAN
RAVEN
CIGARSHOP
PEEPTOAD
(DC) BLUNNY
CATALINA
POST TIME MIKE
---
---



~Graphics By: TIGER DANCER~