**RESULTS**

GOOD AFTERNOON & WELCOME TO
SUPURRR~SATURDAY @ AQUEDUCT RACETRACK

OUR FEATURE EVENT TODAY IS
THE ''CHILL-IN-AIR'' STAKES





DUE TO 4 LATE SCRATCHES OF:
CIGARSHOP (RACING OVER-SEAS)
CRIMINAL TYPE (R & R)
OAKLAWN CAPPER (STUD DUTIES)
POST TIME MIKE (STRANDED IN LOUISIANA)

WE NOW HAVE A FIELD OF 9 -- AS 8 TRY TO STOP
DEFENDING CHAMPION, DUSTY FROM REPEATING
HER LAST VICTORY GALLOP TO THE WINNER'S CIRCLE

THE CALL TO POST HAS JUST BEEN CALLED
''RIDERS UP!''
NOW THE POST PARADE IS BEGINNING
SO LET'S MEET THE FIELD





RUFFIAN @ 20/1

DUSTY (DC) @ 2/1

BLUNNY @ 5/1

JOHN HENRY @ 7/2

PEEPTOAD @ 10/1

CATALINA @ 5/2

REAL QUIET @ 7/1

TIGER DANCER @ 9/2

STARK @ 20/1


THE HORSES ARE ALL LOADED WITHOUT INCIDENT
AND WE ARE READY TO RUN



AND THEY'RE OFF IN THE 'CHILL-IN-AIR' STAKES....








LEAVING THE GATE WITH SUPER SONIC SPEED
WE HAVE A TRIO OF -- 2 FILLYS & A COLT TAKING
COMMAND OF A HEALTHY EARLY LEAD:

TIGER DANCER ~ PEEPTOAD & JOHN HENRY
WHO SEEMS TO ENJOY BEING IN THE MIDDLE OF THE
FAB-FILLYS AS WE THINK WE SEE A SMILE ON HIS FACE





THE REST OF THE FIELD IS ABOUT 15 LENGTHS BACK
WITH CATALINA BRINGING UP THE REAR




OUT OF THE TURN THEY COME




HOW QUICKLY THINGS CAN CHANGE IN JUST A FEW HOOFBEATS!





RUFFIAN HAS LET HER 'INNER CHEETAH' LOOSE EARLY
AND HAS ROARED UP TO CHALLENGE FOR THE LEAD

BUT TIGER DANCER WITH EQUALLY SENSATIONAL SPEED
IS NOT RELINQUISHING THE LEAD THAT EASILY SO
NOW ONCE AGAIN WE HAVE ANOTHER EDITION OF
THE "BIG CAT DIARY" UNFOLDING AS THE TIGER & CHEETAH
TAKE TOTAL COMMAND OF THE RACE --- FOR NOW





JOHN HENRY CONTINUES TO RUN STRONGLY
HOLDING ONTO 3rd - ABOUT 10 LENGTHS BACK

PEEPTOAD IS ANOTHER FEW LENGTHS BACK AS
REAL QUIET HAS INCREASED HIS SPEED AND NOW
IS JUST OFF OF THE PEEPTOAD TAIL

IT'S ANOTHER 5 LENGTHS BACK TO STARK ~
BLUNNY ~ CATALINA & DEFENDING CHAMP, DUSTY




THEY'RE AT THE TOP OF THE STRETCH




TIGER DANCER IN TOTAL COMMAND ALONE ON THE LEAD
AFTER EDGING AWAY FROM RUFFIAN
WITH YET ANOTHER BODACIOUS BURST OF POWER

REAL QUIET HAS MOVED UP QUICKLY
AND HAS PASSED JOHN HENRY
WHO IS BEGINNING TO LOOK A BIT LEG WEARY

PEEPTOAD ALSO IS SHOWING SIGNS OF TIRING

THE REST OF THE FIELD ARE FAR BACK WITH A LOT OF
GROUND TO MAKE UP FOR ANY CHANCE AT SOME MONEY




AND DOWN THE STRETCH THEY COME




TIGER DANCER IS JUST COASTING ALONG UNDER A
HAND RIDE AS SUDDENLY SHE LET THE TIGER IN THE
TANK LOOSE AND HAS LEFT THE REST OF THE FIELD
IN THE 'REAR VIEW MIRROR' ~ REMINDING FANS OF
THE SECRETARIAT BELMONT HOME STRETCH!
SHE IS AT LEAST 25 LENGTHS IN FRONT!





AND JUST WHEN IT SEEMS THAT 'THE BIG CAT DIARY'
SAGA IS OVER ~ ~ SURPRISE SURPRISE SURPRISE!
(NO FOLKS ~ GOMER PYLE DID NOT TAKE OVER THE MIC)

'CAT'-ALINA HAS TOSSED HER BRIDLE INTO THE MIX
AND IS ON THE MOVE WITH A ROAR OF HER OWN!

SHE IS PASSING ONE AFTER ANOTHER AND HAS
JUST CRUISED RIGHT PAST A TIRING RUFFIAN TO
TAKE OVER THE 2nd SPOT BUT STILL VERY FAR
BEHIND THE TIGER DANCING ON THE LEAD!

REAL QUIET IS NOW JUST A LENGTH OFF OF
THE TAIL OF RUFFIAN WITH JOHN HENRY NEXT

AS THE WIRE LOOMS JUST AHEAD WE HAVE A
NEW VERSION OF THE 'BIG CAT DIARY' AS
TIGER DANCER ~ 'CAT'ALINA ~ RUFFIAN (aka=Cheetah)
BRING A 1-2-3 "FELINE" FINISH TO THE DAY!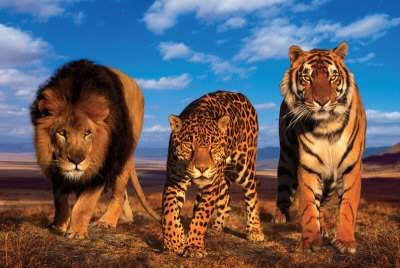 REAL QUIET JUST MISSES OUT ON 3rd BY A WHISKER
BUT STILL MANAGES TO STEAL "THE PRECIOUS"




$$-OFFICIAL ORDER OF FINISH-$$




1st ~ TIGER DANCER ===== $144.70

~WINNER / BRIDE OF THE BALL~




2nd ~ CATALINA ========== $108.20

~RUNNER-UP / BRIDESMAID ~




3rd ~ RUFFIAN ============ $67.60

~FLOWER-BEARER~




4th ~ REAL QUIET ======= $66.20

~RING BEARER~






=== ALSO RAN ===




JOHN HENRY ======== $61.20

PEEPTOAD ========== $54.70

(DC) DUSTY ========= $33.60

STARK ============ $30.00

BLUNNY ============ $26.00
....BACK TO THE DOG-HOUSE; FOR SOME FUN




****************************************
WE NOW BID YOU A GOOD EVENING
AND A SAFE, SOBER, NON-TEXTING DRIVE HOME
****************************************

... I LOVE THIS POST ...

~Graphics By: Tiger Dancer~