**SPOOKY RESULTS**

GOOD AFTERNOON FROM SATAN-ANITA RACE TRACK
WHERE THE EXCITEMENT AND ADRENALIN ARE RUNNING ON HIGH
DUE TO THE ONCE A YEAR SPOOKTACULAR EXTRAVAGANZA





OUR FEATURE EVENT TODAY IS: THE TRICK OR TREAT STAKES
PRESENTED BY: GHOSTS ~ GOBLINS ~ GHOULS INC.


.......



FOR YOUR ENTERTAINMENT WE OFFER SOMETHING DIFFERENT TODAY
YOU ALWAYS WATCH HORSES RUN.....
YOU MAY HAVE SEEN CAMELS - LLAMAS - DOGS -
EVEN TURTLES RACE, THO THAT'S NOT QUITE AS EXCITING
AND REQUIRES A VERY SLOW -- PATIENT MIND TO APPRECIATE

SO NOW WHY NOT TRY SOMETHING ELSE....
TODAY WE OFFER A UNIQUE EXPERIENCE
THAT WILL LIVE IN YOUR MEMORY AND PERHAPS,
FOR SOME, EVEN IN YOUR NIGHTMARES

PLEASE DON'T BE FRIGHTENED OR ALARMED WHEN THE
PARTICIPANTS ENTER THE TRACK FOR THE POST PARADE
HIGH SECURITY IS IN PLACE TO PREVENT HARM TO
ANY RUNNERS OR VISITORS IN THE STANDS THANKS TO


THE SATAN-ANITA MOUNTED POLICE FORCE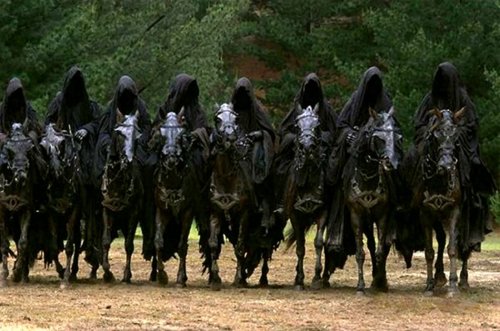 THE POST PARADE HAS NOW BEGUN
SO JOIN US FOR THE FREAKY FUN






LEADING THE FIELD OUT ONTO THE TRACK:



ARTEMIS (aka: Ruffian)




BLACKBEARD (aka: Criminal Type)




TASMANIAN DEVIL (aka: Blunny)




URSULA (aka: Dusty)




BLACK WIDOW OF THE AVENGERS (aka: Tiger Dancer)




HOMER SIMPSON (aka: CigarShop)




FURIOSA Of Mad Max (aka: Peeptoad)




THE IRISH LEPRECHAUN (aka: Stark -- DC)




JEAN LAFITTE: Privateer (aka: Post Time Mike)




XENA: Warrior Princess (aka: Catalina)




MORN Of Deep Space 9 (aka: Real Quiet)




MAVERICK Of Top Gun (aka: John Henry)




** UNFORTUNATELY, DETECTIVE SONNY CROCKETT
OF THE MIAMI VICE SQUAD WAS CALLED TO REPORT
FOR AN URGENT SITUATION IN THE AREA AND WAS
THEREFORE UNABLE TO PARTICIPATE TODAY

WE NOW TURN YOU OVER
TO OUR GUEST TRACK ANNOUNCER:


ELVIRA






****************************

THE RUNNERS ARE NOW LINING UP AT THE STARTING LINE
READY TO DO WHATEVER IT TAKES TO WIN!

WITH THIS GROUP OF ASSORTED CHARACTERS
OF VERY DIVERSE BACKGROUNDS ~
SOME ARMED WITH ARROWS OR FIREARMS OR SWORDS
THERE IS NO WARNING BIG ENOUGH TO COVER WHAT
MAY HAPPEN ALONG THE WAY TO THE FINISH LINE!




AND -------- THEY'RE OFF IN THE TRICK OR TREAT STAKES!








STRUGGLING TO HOLD ON TO HIS POT OF GOLD
...... IS THE LEPRECHAUN
WHO SOMEHOW IN SPITE OF THE WEIGHT OF THE GOLD,
IS NOW LEAVING THE REST OF THE RUNNERS
TRYING TO PLAY CATCH UP!





URSULA ~ JEAN LAFITTE & MAVERICK ARE ABOUT 10 LENGTHS
BEHIND THE SPEEDY FRONT RUNNING LEPRECHAUN
WHO APPEARS AS A BLUR OF GREEN FAR IN THE DISTANCE

A FEW LENGTHS BEHIND THAT TRIO ARE
THE BLACK WIDOW ~ THE TAZMANIAN DEVIL & MORN

IT'S ANOTHER GAP BACK TO A FEW
WHO ARE NOT SHOWING ANY SPEED YET
BUT WE HAVE A LONG WAY TO GO AND AS WE KNOW
ANYTHING CAN & OFTEN DOES HAPPEN!

AT THE BACK FOR NOW ARE:
BLACKBEARD, ARTEMIS, FURIOSA
ALONG WITH XENA & HOMER SIMPSON




OUT OF THE TURN THEY COME




THE LEPRECHAUN STILL IN COMMAND OF THE RACE
AND APPARENTLY NOT BEING SLOWED DOWN BY THE WEIGHT OF GOLD!
AMAZING HOW SOMEONE THAT TINY CAN MOVE THAT FAST!

NOW IT'S ARTEMIS FIRING SWIFT ARROWS AT THE
LITTLE GREEN LEPRECHAUN IN FRONT OF HER
BUT SO FAR HAS FAILED TO HIT HER TARGET





THE BLACK WIDOW IS RIGHT THERE WITH ARTEMIS ~
FIRING HER ''WIDOW'S BITE'' ELECTRO STATIC ENERGY BLASTS
AT THE LEPRECHAUN -- WHO SO FAR HAS AVOIDED BEING HIT!





MORN IS A FEW LENGTHS BEHIND THAT DUO
BUT APPEARS TO BE A BIT 'TIPSY' ~
PERHAPS FROM TOO MUCH "SPIRITS" AT QUARK'S BAR!





JEAN LAFITTE & BLACKBEARD ARE NEXT
BUT THEIR SWORDS KEEP GETTING ENTANGLED AS THEY RUN,
PREVENTING EITHER ONE FROM GAINING GROUND ON THE LEADERS!





MAVERICK IS RIGHT ALONG SIDE OF URSULA BUT IS HAVING
AN ISSUE TRYING TO AVOID THE SPRAY OF BLACK INK AND
8 LONG TENTACLES PREVENTING HIS MOVING FORWARD





FURIOSA IS JUST BEHIND THAT DUO BUT IS HAVING DIFFICULTY
SEEING WHERE TO RUN WITH A CLOUD OF BLACK INK IN THE AIR
SO FIRING HER WEAPON WOULD BE A WASTE OF AMMUNITION!





VERY FAR BACK XENA & TAZ ALSO HAVING TROUBLE SEEING
THROUGH ALL THE BLACK INK SPRAYED IN THE AIR IN FRONT
OF THEM, AS HOMER SIMPSON JUST BEHIND THE DUO APPEARS
TO BE LAUGHING AT EVERYONE STRUGGLING IN FRONT OF HIM
FINDING IT ALL VERY FUNNY!







THEY'VE REACHED THE TOP OF THE STRETCH




THE LITTLE GREEN LEPRECHAUN IS STILL IN THE LEAD BUT
NOW APPEARS TO BE STRUGGLING A BIT WITH THE POT OF GOLD
THAT HE REFUSES TO DROP AT ANY COST!
HE NEVER CONSIDERS THE CONCEPT THAT SOMETIMES,
GREED CAN STAND IN THE WAY OF GLORY!

AND NOW THE PACE HAS QUICKENED AS SOME OF THE RUNNERS
HAVE MANAGED TO OUT MANEUVER THE OBSTACLES IN THEIR WAY

IT'S THE PIRATE DUO OF BLACKBEARD & JEAN LAFITTE WHO
HAVE FORGED A PATH AVOIDING ARROWS ~ INK ~ WEAPONS
USING ONLY THEIR SPEED ~ WIT & SWORDS TO CLOSE IN ON
THAT LITTLE GREEN LEPRECHAUN IN FRONT!

URSULA HAS CONTINUED TO SPRAY HER BLACK INK IN THE
FACES OF ALL IN HER WAY AND NOW HAS MOVED UP
JUST IN BEHIND THE PIRATE DUO IN FRONT OF HER

AVOIDING ALL 8 TENTACLES & INK ...
BEHIND URSULA -- ARE ARTEMIS & THE BLACK WIDOW
SIDE BY SIDE MAKING A VERY STRIKING IMAGE ~
ESPECIALLY FOR THE MEN IN THE CROWD!

IT'S ANOTHER SEVERAL LENGTHS BACK TO
MAVERICK & FURIOSA
ENGAGED IN A TIGHT BATTLE OF THEIR OWN

MORN IS JUST STROLLING ALONG IN A SOMEWHAT BOOZE INDUCED
HAZY FOG BUT APPARENTLY ALSO WITH A SMILE ON HIS FACE ~
(WE THINK THAT'S A SMILE ON THAT FACE, IT'S KINDA HARD TO BE SURE?)


~BUT NORM DOES ALL THE TALKING~

--



MEANWHILE WAY FAR AT THE BACK ~
HOMER SIMPSON SEEMS TO BE CRACKING JOKES HYSTERICALLY
LAUGHING TO HIMSELF, BUT THE TAZMANIAN DEVIL & XENA
DON'T SEEM TO FIND HIM VERY FUNNY!



=== AND DOWN THE STRETCH THEY COME! ===




THE LEPRECHAUN -- STILL WITH A VERY GOOD LEAD CONTINUES
TO DANCE ALONG, BUT THE POT OF GOLD APPEARS TO BE
TAKING IT'S TOLL ON THE LITTLE GREEN FELLOW
AS HIS SPEED SEEMS TO BE DIMINISHING

THE PIRATE DUO ARE GAINING GROUND STILL MANAGING TO STAY
IN FRONT OF THE FOG OF BLACK INK BEHIND THEM AS URSULA
CONTINUES TO SPRAY AWAY IN THE FACES OF ALL BEHIND HER

THE BIG BLACK INK CLOUD APPEARS TO BE AFFECTING ARTEMIS
AND THE BLACK WIDOW AS NEITHER ONE IS GAINING GROUND

URSULA'S SECRET WEAPON OF SPRAYING BLACK INK IN THE AIR
NOW BECOMES APPARENT THAT THE PLAN WAS WELL THOUGHT OUT
AS ALL THOSE BEHIND THE 8-LEGGED WONDER
HAVE NOT BEEN ABLE TO MOVE PAST HER!

THE WIRE IS JUST AHEAD
AND THE LEPRECHAUN IS OBVIOUSLY EXHAUSTED
AS HIS POT OF GOLD IS TAKING A TOLL
ON HIS SPEED AND LEAD ~

BLACKBEARD & JEAN LAFITTE ARE ALL OUT SIDE BY SIDE
TRYING TO DISENTANGLE THEIR SWORDS WHICH IS COSTING
BOTH OF THEM SPEED TO CATCH THE LITTLE GREEN IMP IN FRONT!

AND AS THE LITTLE GREEN LEPRECHAUN CROSSES THE WIRE
LAUGHING ALL THE WAY ~ ~ ~ CLUTCHING HIS POT OF GOLD
WHICH HE NEVER CONSIDERED DROPPING EVEN IF IT MEANT
LOSING THE RACE ~
A BRILLIANT RAINBOW HAS APPEARED OVER SANTA ANITA





SOMETIMES: LIFE IS STRANGER THAN FICTION!




$$-OFFICIAL ORDER OF FINISH-$$




1st ~ LEPRECHAUN ========= $89.60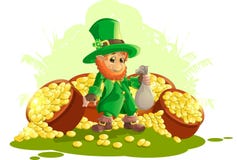 ~WINNER~



2nd ~ BLACKBEARD ===== $61.30

~ 2nd ~



3rd ~ JEAN LAFITTE ==== $54.00

~ 3rd ~



4th ~ URSULA ============== $46.40





BLACK WIDOW ========== $43.90

ARTEMIS ======= ====== $43.60

MAVERICK ============= $33.60

FURIOSA ============== $33.40

MORN ================ $26.80

HOMER SIMPSON ========= $13.80

TAZMANIAN DEVIL ======== $12.90

XENA ================= $6.70

WE INVITE YOU ALL TO THE CELEBRATION PARTY
WHERE ALL WEAPONS ~ INK ~ SWORDS ~ ARROWS ARE BANNED!
AND THE WINNING LEPRECHAUN, IN SPITE OF HIS MISERLY WAYS
HAS OFFERED ONE GOLD PIECE TO EVERYONE WHO RAN!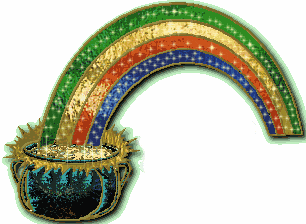 ~ SOMEWHERE OVER THE RAINBOW ~
A LEPRECHAUN FAMILY IS CELEBRATING

***************************************************


~~~~
~~ Graphics By: TIGER DANCER ~~