Satono Aladdin
(JPN), 2011H.
Deep Impact
(JPN) x Magic Storm(USA) by Storm Cat(USA), nothced his first G1 tiltle in the Yasuda Kinen [BC Mile Win-and-You're-in] 1600m turf at Tokyo by catching defending champ
Logotype
(JPN) at the wire on June 4th 2017.
He is a full brother to G1 winning mare
Lachesis
(JPN).
Interestingly all the top three finishers contested G1 races in Hong Kong last December.
And they are now all qualified for the G1 Prix Jacques Le Marois in France.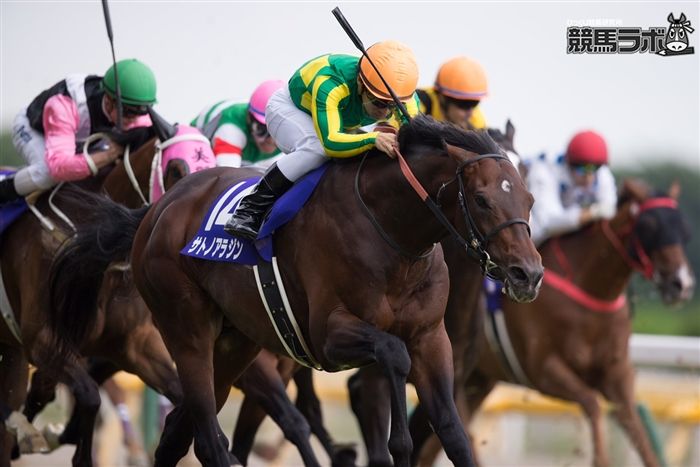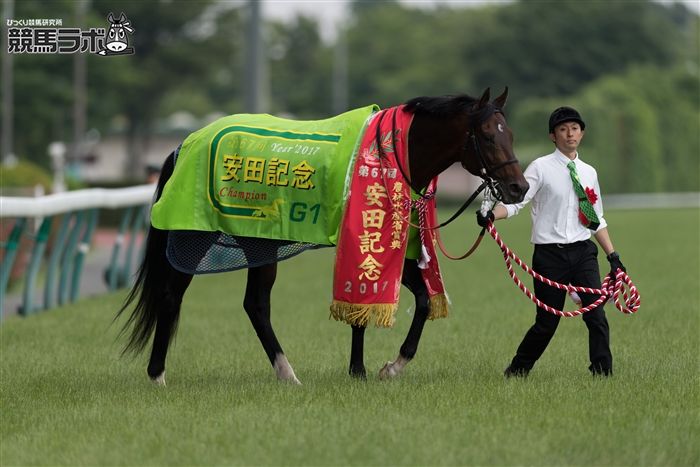 http://www.jbis.jp/horse/0001137571/
25-8-4-3
-- replay (English)
https://www.youtube.com/watch?v=Ale5U-QmaV0
1st 14 Satono Aladdin(JPN)[Deep Impact(JPN) x Magic Storm(USA) by Storm Cat(USA)] H6 58 01:31.5
2nd 16 Logotype(JPN)[Lohengrin(JPN) x Stereotype(JPN) by Sunday Silence(USA)] H7 58 01:31.5 NK
3rd 6 Red Falx(JPN)[Swept Overboard(USA) x Vermouth(JPN) by Sunday Silence(USA)] H6 58 01:31.6 NK
4th 7 Greater London(JPN) H5 58 01:31.6 NK
5th 8 Air Spinel(JPN) C4 58 01:31.7 NK
6th 12 Beauty Only(IRE) G6 58 01:31.8 1/2
7th 18 Staphanos(JPN) H6 58 01:31.8 NK
8th 15 Isla Bonita(JPN) H6 58 01:31.9 1/2
9th 10 Clarente(JPN) H8 58 01:31.9 NK
10th 5 Contentment(AUS) G7 58 01:32.3 2 1/2
11th 9 Longing Dancer(JPN) H8 58 01:32.3 HD
12th 3 Sunrise Major(JPN) H8 58 01:32.7 2 1/2
13th 2 Decipher(JPN) H8 58 01:32.7 NK
14th 13 Logi Chalice(JPN) H5 58 01:32.8 NK
15th 4 Ambitious(JPN) H5 58 01:32.9 3/4
16th 17 Young Man Power(JPN) H5 58 01:33.1 1 1/4
17th 1 Talking Drum(JPN) H7 58 01:33.1 HD
18th 11 Black Spinel(JPN) C4 58 01:33.7 3 1/2
-- JRA Review
http://japanracing.jp/_news2017/pdf/170604.pdf